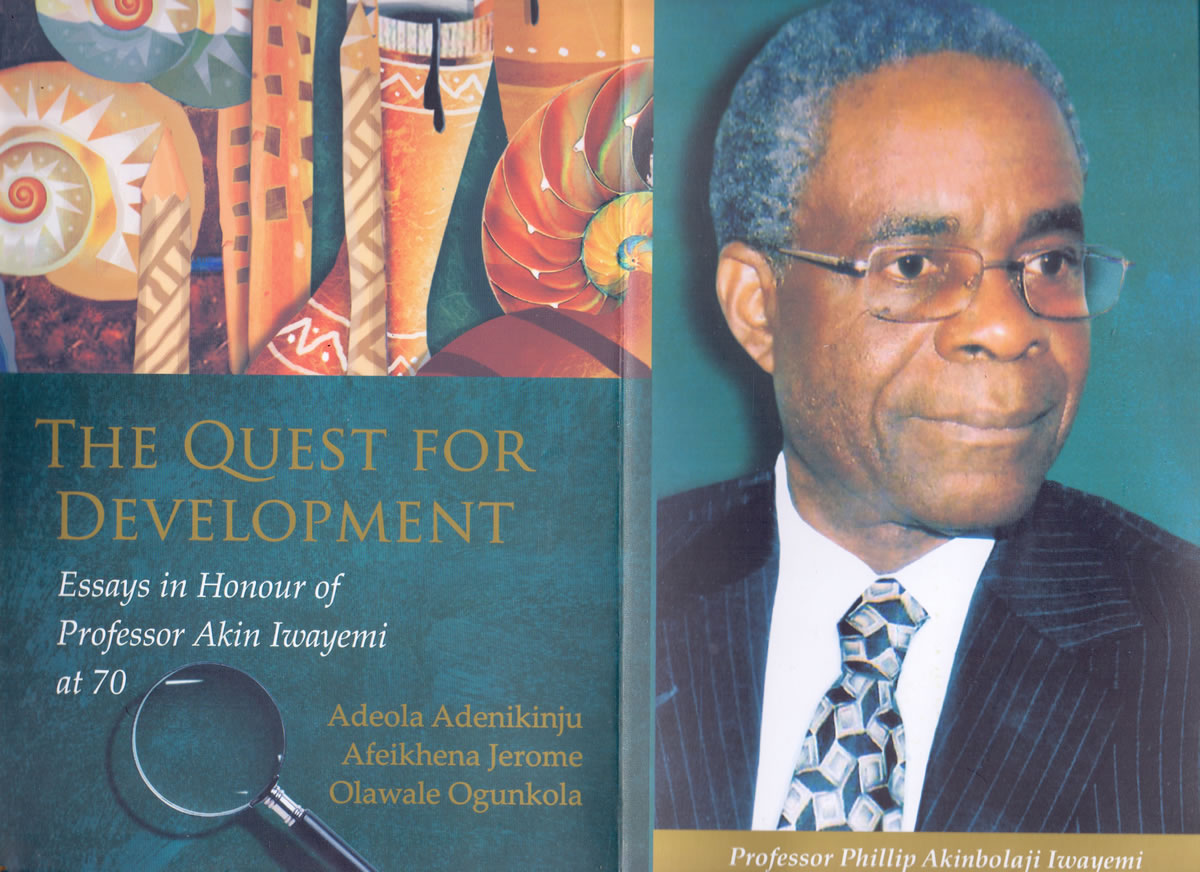 The Quest for Development: Essay in Honour of Professor Akin Iwayemi at 70
The Need for Prof. Akin Iwayemi ENDOWMENT FUNDS
The management of Centre for Petroleum, Energy Economics and Law (CPEEL), University of Ibadan, Ibadan, having done a projection of the need to have sustainable support for young scholars in Nigeria and Africa, wishes to solicit your support and partnership in raising an endowment funds to enhance the attainment of this vision of empowering young scholars.  The sum of 20 million Naira is the sum to be raised for Prof. Akin Iwayemi Endowment Funds.
The main aim of this endowment is to expand on the efforts and contributions of Prof. Akin Iwayemi in teaching and research entrenched in energy studies. He has always push the envelopes in addressing various energy sector challenges in Sub Saharan Africa. By making an endowment, your contribution to the energy sector will enhance quality of life of Africans. Energy sector productivity will also be scaled up based on the positive impacts that will accrue from the outcome of the disbursement of the endowment funds. The money will go into fixed deposit and the interest accrued would be used to cater for the three segment of the endowment funds.
The following fellowship programmes would be provided for under this endowment:
1)      Scholarship Programme
2)      Post-doctoral Fellowship
3)      Visiting Scholars Programme
4)      Publication of theses
The fellowships will be open to Africans and Africans in Diaspora that are working in energy-related issues.
Scholarship Programme
The Scholarship Award under this endowment is intended to encourage and strengthen a philosophy of academic distinction in Nigeria and Africa. Provision would be offered to scholars interested in plotting new research directions or advancing on-going research with the expectation that this will contribute enormously to elevating the state of knowledge. The scholarship would be targeted at the younger generation scholars who are carrying out research at the doctoral degree level in energy studies at CPEEL. In selecting applicants, importance would be placed on the capabilities of the doctoral theses and their implications for sustainable improvement in energy sector. This will be awarded for one academic session and subject to renewable each session for maximum of additional two academic session based on evidence of consistent progress report.
Post-doctoral Fellowship
The main aim of the Post-doctoral fellowship programme is to encourage one to two years of intensive research work for new PhD holders with specialization in energy to work in any area of their interest or under any of CPEEL's working research group which is organized around nine major areas of study: (1) Rural Energy and Gender (2) Oil and Gas (3) Regulation and Legal Issues in Energy (4) Electricity and Nuclear (5) Energy and the Environment (6) Energy Statistics & Modeling (7) Energy Finance (8) Renewable Energy Technology and Related Issues (9) Energy and Macro – economy.
Visiting Scholars Programme
The aim of this study visit programme for energy researchers and public officials in the energy sector is to provide a forum for sharing of ideas and learning among government officials, researchers and between the researchers and officials and other major players in the bid to address various energy sector challenges. The programme is a unique 1 to 8 weeks platform for researchers and officials working on energy related issues or in the energy sector. It will provide an opportunity to teach and conduct rigorous reflection and discussion in a serene environment over a stipulated period with the view to creating a proactive solution based policy paper as an advanced contribution through their work.
Publication of theses 
Outstanding theses would be published with the view of providing wide dissemination of findings and recommendations for work that greatly advance the frontier of knowledge.
CPEEL's Contribution
The Centre will provide beneficiaries with work space or office space, access to internet, access to the Centre's and University library resources, and other facilities available to faculty staff and students of the Centre. Beneficiaries will also be able to participate fully in all the Centre's academic activities including seminar series, research projects and teaching.
 Deliverables
 In return, it is expected that the support will empowered the beneficiaries and improve the quality of their contribution to solving the challenges of energy access in Nigeria and Africa and thus contribute to enhancing the quality of life of people all over sub- Saharan Africa.
About Prof. Akin Iwayemi
Akin Iwayemi graduated with BSc (Economics) First-Class Degree from the University of Ibadan in 1969. He got the PhD (Economics) from the Johns Hopkins University, Baltimore, USA, in 1975 at age 29.
He joined the University of Ibadan in 1975 as a lecturer in the Department of Economics where he eventually rose to become a Professor of Economics. Between 1983 and 1988, he was on sabbatical and leave of absence at the Organization of Petroleum Exporting Countries (OPEC) in Vienna where he served as Petroleum Industry Financial Analyst. He returned to the University of Ibadan in 1988 from where he retired on 1 October 2011.
Professor Iwayemi's research and teaching interests cover economic theory, energy economics, environmental and development economics, and the application of game theory to political economy issues. He has published extensively in these areas in national and international journals, monographs and books. He has also consulted widely for the government, the private sector, and international organisations. During his career at the University of Ibadan, he supervised many students at the BSc, MSc and PhD levels. Some of his students at the post-graduate level have also become Professors of Economics here at Ibadan and other Nigerian Universities.
During his service at the University of Ibadan, he was Head, Department of Economics, between 2000 and 2003. He also was a member of Senate until his retirement in 2011. Professor Iwayemi served as a member the Governing Council of the University between 1999 and 2003, the period when the University experienced a significant renaissance. Notably, cultism declined dramatically during this period. During this same period, he also served on the University Vision Committee set up by the University Governing Council, as the Chairman of the Finance Sub-Committee. The implementation of the work of the Vision Committee, which resulted in the Vision Document, brought some landmark changes in all aspects of life academic, administrative and labour relations in the University.
As President of the Nigerian Economic Society, Professor Iwayemi served as a member of the Economic Management Team of the President of the Federal Republic of Nigeria between 2011 and 2013. He is currently a Principal Investigator and Co-founder of the Centre for Petroleum Energy Economics and Law (CPEEL) at the University of Ibadan where he currently teaches, supervises graduate students and conducts research.
How to Contribute
(1)  By investing in the book which is available at the Centre through its purchase and distribution.
(2)  By making a monetary donation in favour of the cause through:
          Account Name: Mac Arthur IGR
          Bank Name: First Bank PLC
          Account Number: 2026311962
For further enquiries, kindly reach the Program Officer, Mr Daramola (07034516060)